Prehnite is KJD's interpretation of the fusion of Pearl and Squaridot.
Appearance
Edit
Prehnite has bright electric yellow-green skin, lemon-lime upward-styled hair, four eyes, one of which have black pupils, and the other two with bright green pupils, a pointed nose, and a pair of mouths. She has a thin build with four arms, a round chest, thin waist, and thick hips. Her gemstones are embedded in her forehead and left eye.
Personality
Edit
KJD describes her as the weird scientist that would mutter to herself.[1]
Abilities
Edit
Prehnite possesses standard Gem abilities, bubbling, shapeshifting, fusion, regeneration, agelessness, and superhuman strength/durability.
Gemology
Edit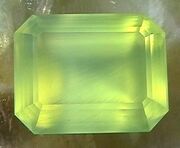 Prehnite is an inosilicate of calcium and aluminium with the formula: Ca2Al(AlSi3O10)(OH)2.
Though not a zeolite, prehnite is found associated with minerals such as datolite, calcite, apophyllite, stilbite, laumontite, and heulandite in veins and cavities of basaltic rocks.
It was first described in 1788 for an occurrence in the Karoo dolerites of Cradock, Eastern Cape Province, South Africa.
It was named for Colonel Hendrik Von Prehn (1733–1785), commander of the military forces of the Dutch colony at the Cape of Good Hope from 1768 to 1780.
| Image | Description |
| --- | --- |
| | Squaridot's gemstone is located where her upper left eye would otherwise be. It has facets around the edge, but they are hidden behind her skin, making it appear smooth surfaced. |
| | Pearl's gemstone is located in the center of her forehead. It is a smooth ellipsoid with no facets. |
References
Edit
v • e
Fusion Gems
Cross-Alignment Gem Fusions