Larimar is the hypothetical fusion of Moonstone (and, by extension, Albite and Orthoclase) and Lapis Lazuli.
Appearance
Edit
Larimar has light blue skin with white, wavy markings, solid blue, wavy hair, plump lips, rounded shoulders, and four eyes with blue irises and black pupils. She has a thin build with two arms, a round chest, a thin waist, and relatively thick hips. Her gemstones are embedded in her back, chest, and navel.
She wears a sky blue top with a teardrop shape created by the straps that wrap behind her neck, accentuating Orthoclase's gemstone. She wears a pair of solid blue shorts with a sky blue waistline, and dark cyan ankle bands. She has a translucent sky blue fabric wrapped around her arms, and a bi-color blue cape with white bordering.
Personality
Edit
Nothing is known about her personality yet.
Abilities
Edit
Larimar possesses standard Gem abilities, bubbling, shapeshifting, fusion, regeneration, agelessness, and superhuman strength/durability.
Unique Abilities
Edit
Hydrokinesis: Larimar has control over Lapis Lazuli's ability to control water.

Flight: She can create water wings using her hydrokinesis and, presumably, fly.
Gemology
Edit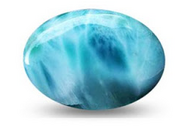 Larimar, also called "Stefilia's Stone", is a rare blue variety of the silicate mineral pectolite found only in the Dominican Republic, in the Caribbean.
Its coloration varies from white, light-blue, green-blue to deep blue.
Larimar is a type of pectolite or a rock composed largely of pectolite, an acid silicate hydrate of calcium and sodium.

Pectolite is found in many locations, but larimar has a unique volcanic blue coloration, which is the result of copper substitution for calcium.
| Image | Description |
| --- | --- |
| | Albite's gemstone is located on her midriff. It is unfaceted and ovalline in shape. |
| | Orthoclase's gemstone is located on her chest. It features a large square facet and is circular in shape. |
| | Lapis Lazuli's gemstone is located in the center of her back and is smooth without any facets. It is shaped like a teardrop. |
v • e
Fusion Gems
Cross-Alignment Gem Fusions