Azotic Topaz is the fusion of a Pink Topaz and a Yellow Topaz.[1]
Appearance
Edit
Azotic Topaz has bright orange skin with red and yellow markings, burgundy hair in bob style, plump lips, two eyes with black pupils. She has a thick build with a round chest and thick hips. Her gemstones are embedded in her hips.
She wears a dark maroon and burgundy bodysuit with dark maroon pants, a burgundy top with a dark maroon shawl and a Yellow Diamond symbol on the chest. She wears burgundy "boots" and dark maroon armbands. Her pants have diamond cutouts around her gemstones.
Personality
Edit
Azotic Topaz looks like a sweetheart but can rip you apart if prompted.[2]
Abilities
Edit
Topaz possesses standard Gem abilities, bubbling, shapeshifting, fusion, regeneration, agelessness, and superhuman strength/durability.
Gemology
Edit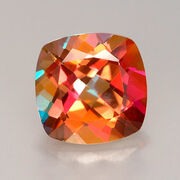 Azotic topaz is a color-enhanced variety of colorless topaz. It is named after the company that invented the unique patented coating enhancement treatment, Azotic®.
Azotic topaz obtains its unique rainbow-like colors through an extremely thin metallic coating of film deposition that reflects light in a variety of colors and interesting patterns.
It has a relatively high refractive index and a hardness level of 8 on the Mohs scale.
It's clarity and luster are transparent, eye clean topaz of the finest quality is typically selected for enhanced Azotic topaz.
| Image | Description |
| --- | --- |
| | Azotic Topaz's gemstones are located on her hips, corresponding with her two components' gemstone locations. Her gemstones have triangular facets and a circular center facet. |
References
Edit
v • e
Fusion Gems
Cross-Alignment Gem Fusions